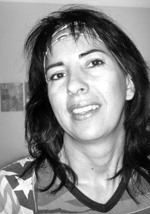 Profile
---
Hetta Pieterse works as a publisher and intermittently participates in group exhibitions in the Gauteng environment, South Africa. Her medium is ink on paper – creating monotypes, hand-coloured prints, drawings or limited edition prints. Works listed under the `Affordable Art' exhibition were created from March to June 2020 during South Africa's lockdown time and has not been showcased previously.
Hetta's relationship with ink and paper began in 1980 while she completed a 3-year Fine Arts Diploma at Wits Technikon (now part of the University of Johannesburg). As an art student she worked in the newspaper environment in the evenings (from lithostripper to subeditor), while daily studying art with Willem Boshoff, Phillipa Hobbes and Sue Rosenberg. She moved to Unisa, Pretoria initially to work as a language editor, then graphic designer (1993-2006), marketing manager and is currently Commissioning Editor & Manager at Unisa Press. Hetta is studying further for her MA degree in Publishing, and has a son, Thys.
Hetta has in recent years exhibited with groups at the Association of Arts, Mackie Street, at the Tina Skukan Gallery, Pretoria, in Johannesburg and in Grahamstown.
In March 2017, Hetta participated in a group exhibition at the Association of Arts, Pretoria, Mackie Street. She created a series of original monograph art works for a book, Delirium, by poet Erna Jo, which led to an exhibition at the HAP, Malherbe street, Pretoria.
In August 2016 she completed a series of abstract artworks for a science fiction book by Peter Wilhelm, The Whirlwind in the Thorn Trees (Cover and artwork for inside; 29 original ink works.) This book was published by Porcupine Press, 2017.
From 2013 (Franschoek) to 2014 (Oliewenhuis Museum, Bloemfontein): she was part of a travelling exhibition `Fracking in the Karoo', curated by Katie du Toit-Barnard (with a print catalogue, containing 2 of her hand-coloured etchings). This exhibition toured the Pretoria Art Museum in 2015. Hetta has worked in residence at the Cite des Arts, and has exhibited works in France and Mauritius. Her works are held in private collections in the Netherlands, Mauritius, France, the USA and South Africa.