Exhibition: Mirage
---
MIRAGE
An exhibition of 24 prints by Hetta Pieterse
at the Association of Arts Pretoria
On show: 8 -27 June 2007
Opening: Prof Andries Oliphant
Viewing times: Tues – fri 9:30 -17:30; sat 9:30-13:00
Venue: 173 Mackie street, Nieuw Muckleneuk
Contact the Gallery:  tel +27 12 346 3100 artspta@mweb.co.za
Acknowledgements and thanks
I am grateful to Mimi van der Merwe specifically for continued support, advice and ongoing guidance; as well as to Andre Naude, who also acted as mentor – while Pieter van Heerden, Curator of the Association of Arts, Pretoria  gave invaluable help with the final selection of works and framing.
Andries Oliphant kindly agreed to open the exhibition; I know I can count on his sharp visual intellect and intuition to lead people into this selection of new works.
Thanks also to Henning, Thys, friends and colleagues for their patience and support during this time!
Catalogue of  24 works
All works were printed in the studio of Mimi van der Merwe, Tait Modern, Colbyn, Pretoria, South Africa. Tel 012 430 3442.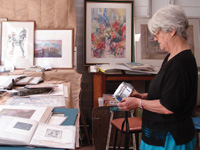 Most works have been printed on  Fabriano Rosaspina etching paper, while a select few were done on John Hirst paper. Chine collé elements are made of either hand-coloured rice paper, or tissue papers.
The original title of each work is given first, followed by a translation in brackets.